anels of myriad shapes in cocoa and bronze, copper and smoky black, and in bas-relief —a ripe pear dangling from a leafy branch, the swirling pinwheel petals of a sunflower in motion. These are the organic tile compositions of internationally known Italian sculptor, Siglinda Scarpa. And right along-side these compilations of
Elemental in Nature
Like a medieval alchemist, Scarpa mixes minerals — copper oxide, iron, cobalt — with sawdust for combustion, in a centuries-old Chinese firing technique. With her hands she kneads this volatile elixir that, in the searing heat of the kiln, will coalesce with the
clay, capturing an image in its surface of the elements themselves — fire and earth.
Scarpa hand rolls the clay for her variegated tiles. These half-inch slabs are bisque-fired to a leather-hard texture, with some edges squared, some beveled and others left ragged and irregular. "I like that these shapes are uncontrolled. The imperfection touches me," says the artist. She cuts and breaks her slabs into varied shapes and sizes from six, eight, 10 inches to fragments a mere fraction of an inch.
A visit to this artist's studio, the Goathouse Gallery, gives insight into the source of the decoration that Scarpa sculpts and molds and carves into her tiles. Walls of glass overlook rambling gardens. Water and trees, sky, flowers,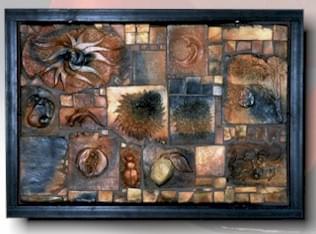 earthbound images in the sun-struck Pittsboro studio of this artist in clay, are radiant, flaming, dancing shapes — plunging, coiled, unfolding, ebullient figures, like- wise inspired by nature. Where one is sensual, the other is exuberant. Side by side, these latest works by the renowned ceramic virtuoso signify the breadth and depth of her creative genius.