AND WITH THIS SHELL, THE SEA:
The Ceramic Art of Siglinda Scarpa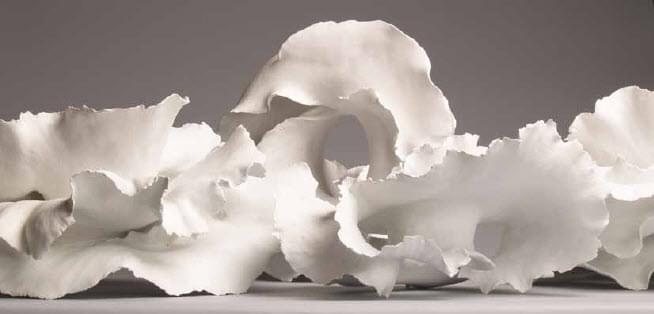 We at the Goathouse Refuge all know her for her compassionate work to save abandoned animals, but the founder of our Refuge is being featured for her unique and singular work in the arts. To mark Siglinda's lifetime of generous creativity, the Gregg Museum of Art & Design presents a special exhibition that suggests the full range of her work, from extremely fragile and airy sculptures that may call to mind delicate undersea corals or passing clouds, to sturdy, practical cookware that can make cooking itself a kind of performance art. Whether of porcelain as thin and translucent as kitten ears or redware adorned with ornamental fruit and tendrils, Scarpa's work expresses an intense and exuberant response to the world of nature and celebrates the joy of being alive.
AND WITH THIS SHELL, THE SEA: The Ceramic Art of Siglinda Scarpa, held at NCSU's Historic Chancellor's Residence, 1903 Hillsborough St., Raleigh
OPENING RECEPTION: Thursday — November 21, 6-8 PM
OPEN BY APPOINTMENT: November 21, 2013 – January 31, 2014 Monday – Friday, 9-5 at 1903 Hillsborough Street, Raleigh
80% of sales directly benefit the Goathouse Refuge for Cats
The title of the show comes from Siglinda Scarpa's own 1979 poem, Elena:
Non so cosa puoi prendere . . . I don't know what you can take from me, Ma so che ti posso dare . . . But I know what I can give you Una conchiglia . . . A shell e con essa il mare! . . . And with it the sea!